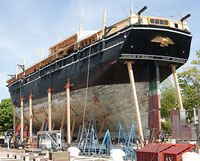 A windfall, a sudden and unexpected occurrence of good fortune, literally refers to fruit or timber knocked down by the wind. Here is an intriguing story of a literal windfall from the Maritime Texas blog.

When Hurricane Ike swept through Galveston, Texas, it killed as many as 40,000 trees on the island, all of which have to be removed and properly disposed of.  Among these dead trees are large numbers of live oaks, many upwards of one hundred years old.   Live oak was widely used in early American shipbuilding. Because of the trees' short height and low hanging branches, lumber from live oak was specifically used to make curved structural members of the hull such as knee braces.
Galveston's misfortunes is turning out to be a literal windfall for the Mystic Seaport where the Charles W. Morgan is currently being rebuilt.  As reported in the Houston Chronicle:
The Mystic Seaport maritime museum is hoping to haul six to eight truckloads — about 176 tons — of live oak from Galveston to the museum in Mystic, Conn., where it is rebuilding the 1841 whaling ship Charles W. Morgan, said Quentin Snediker, director of the museum shipyard.
A drop in lumber prices makes it difficult to give wood away, said Edward Dougal, Texas Forest Service wood utilization and marketing specialist. The biggest cost is transportation, Dougal said, which few companies are willing to pay.  Mystic Seaport, for example, will pay $6,000 per truckload to haul the live oaks to Connecticut.