The mega-yachts of the Russian billionaires grow ever larger,  more elaborate, and, of course, ever more expensive. Roman Abramovich's new yacht Eclipse will be the world's largest yacht, at 557 feet (170 meters), eclipsing, so to speak, the 525-foot luxury yacht owned by Dubai ruler Sheikh Mohammed bin Rashid Al Maktoum.

In addition to her size she will reportedly feature an armor plated master suite and bullet proof windows in the accommodations area and bridge. She also will have two heliport, an advanced radar system designed to warn of incoming missiles and a submarine which can also serve as an escape pod.   There are accommodations for 24 guests, with a crew of 70 as well as two swimming pools, a movie theater and a dance floor.   The yacht is estimated to have cost around $500 million and is planned to be complete by 2010.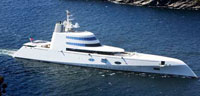 Andrey Melnichenko's yacht named "A" is 394 feet long and was built to be larger than Roman Abramovich's previous yacht Pelorus. While she is no longer the longest mega-yacht she continues to be the first in any alphabetical list of such yachts. The yacht "A" appears to many to look like a cross between a battleship and a submarine and/or possibly a spaceship.  The Wall Street Journal referred to is as "ugliest yacht in the world. "    In contrast, David Pelly of Boat International, the "bible" of superyacht owners, called it "the most extraordinary yacht launched in recent memory".  He said: "It is stunning. It reminds me of a world war one battleship while being slightly submarine-like as well." She was built by the same firm which built the battleship Bismark. The razor-sharp bow will cut through Arctic ice. Clamshell doors at the rear open up wards to release two 30ft speedboats, ideal tenders for the Mediterranean.
Melnichenko is said to have spent around $400 million on the "A."   He is also famous for having paid £1.5m to Christina Aguilera to sing two songs at his wedding on the Côte d'Azur in 2005 and paid Jennifer Lopez £500,000 to entertain at Aleksandra's 30th birthday party in Britain last year.