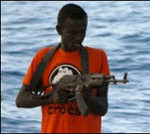 Last week we posted about the International Chamber of Shipping's concern that governments are not doing enough to combat piracy. Now the British government, after long opposing the payment of ransoms to free hijacked ships is also trying to discourage the use of armed guards on UK merchant ships. British government policy appears to be to not provide adequate naval defenses against piracy, to oppose the shipowner's use of onboard guards and then to oppose the ship owner's payment of ransom to free hijacked ships and crews.

The US government also opposes payment of ransom to pirates and until recently has opposed arming merchant ships. After the second attack on the Maersk Alabama was foiled by armed guards aboard, however, Vice Adm. Bill Gortney of the U.S. Naval Forces Central Command, said the Maersk Alabama had followed the maritime industry's "best practices" in having a security team on board. It is unclear whether this is a change in policy or an extemporaneous response in lieu of a policy.
UK government seeks to deter use of armed guards onboard
THE UK government has sought to dissuade UK-flagged shipowners from resorting to the use of armed guards aboard vessels by refusing to approve ship security plans that contain such arrangements. The crackdown fails to mention, however, that there is no requirement to include details of armed guards in the document, a loophole that some shipowners have been exploiting to provide added protection from pirates.
A recent notice to merchant shipping issued by the UK flag authorities noted that the Marine Guidance Note outlining approved measures to counter piracy was being revised. In light of the revised wording which made clear that "the UK government strongly discourages the carriage and use of firearms onboard UK registered ships", the UK flag warned shipowners that neither Transec, the UK transport security body, nor the Maritime and Coastguard Agency would approve ship security plans that contain arrangements for provision of private armed guards on ships.
According to a spokesman for the UK Department for Transport, the guidance had been issued to remind shipowners of the UK government's policy on armed guards onboard vessels. The spokesman confirmed, however, that some operators had chosen to put armed guards on board their vessels with no mention of the arrangements noted in the Ship Security Plan.
"In order to comply with the International Ship and Port Facility Safety Code, new vessels that wish to register on the UK flag are required to submit a ship security plan," the DfT told Lloyd's List in a written statement.
"While some operators have taken the decision to protect themselves against piracy through the use of armed guards, we strongly discourage this practice and are firmly of the opinion that vessels should adopt passive defensive techniques instead.
"This is why we have reminded the industry that we will not approve any Ship Security Plan which contains the provision for armed guards aboard the vessel."