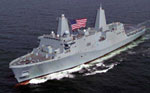 In November we posted about the USS New York's commissioning in its namesake city.  The new  amphibious transport dock ship, the fifth of the San Antonio-class, was built with seven and a half tons of steel from the rubble of the World Trade Center cast for the ship's bow.      A recent spot check of the ships of her class showed that 10 percent to 15 percent of the welds used in the construction were undersized.  As the welding was primarily related to pipes, at least we won't have to worry about the "front  falling off."
That is not the only problem on the USS New York.  She is currently under repair following  a bearing failure on her main propulsion diesels.  The bearing problem is not unique to the SS New York but appears to be shared by other  San Antonio class ships of which the USS New York is the fifth of nine to be built.
LPD amphibious assault ship welds are a concern for Navy

The Navy said the needed repairs can involve thousands of welds on a single ship. Some of the deficient welds will require technicians to do some nimble maneuvering to make the needed repairs.
The problem is so pervasive, the Navy said, that it is checking every pipe weld over the past two years at Avondale and Pascagoula and ordered all pipe welders and inspectors at the shipyards decertified and retrained and then recertified before working on the ships.
Bearing failure is a San Antonio 'class issue', says US Navy
A diesel engine breakdown in the US Navy's latest San Antonio-class landing transport dock could have implications across the class of ships, according to officials.
The premature failure of a main bearing in one of USS New York's four Colt Pielstick PC 2.5 prime movers was discovered during a week-long diesel baseline assessment in the Atlantic Ocean.