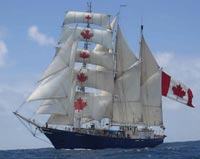 The West Island College "Class Afloat" school ship Concordia, en route between Recife, Brazil and Montevideo, Uruguay,  is reported to have sunk last night off the coast of Brazil.   All 64 passengers and crew were reported safe after being  rescued by the Brazilian Navy and Air Force.
Canadians rescued after ship sinks off Brazil
All 64 passengers and crew of a Canadian sailing ship that sank in high winds have been rescued from life rafts off the coast of Brazil.A distress signal was picked up from the three-masted SV Concordia around 1700 (1900 GMT) on Thursday.   A Brazilian Air Force plane spotted the rafts from the Concordia floating about 300 miles off the coast of Rio de Janeiro three hours later.  The passengers and crew were plucked from the sea early on Friday.

"Everyone aboard the ship has been rescued – they've all been accounted for," said a Brazilian Navy official.   Nobody on board was injured and Canadian Foreign Minister Lawrence Cannon thanked Brazilian authorities for leading the search and rescue operation.
West Island College International in Nova Scotia, which owns the vessel, said it had been on a 10-month voyage when it capsized.   The Concordia had left north-east Brazil on 8 February and had been due to dock in the Uruguayan port of Montevideo next Tuesday.