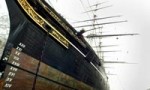 After rosy announcements about the restoration of the Cutty Sark an article in the Telegraph has a very different view of the ongoing project.
Cutty Sark restoration turning into a fiasco
The restoration of the Cutty Sark is turning into a fiasco which could seriously damage or even destroy one of Britain's most famous ships, it can be revealed.

Last week the Prime Minister, Gordon Brown, announced that the vessel, which has been under restoration since 2006, would be "brought back to its former glory" in time for the Olympics.
"It will be yet another jewel for visitors in 2012 to enjoy," said Mr Brown.
However, it can now be revealed that:
– The project's chief engineer, Peter Mason, has resigned, saying the restoration should be "stopped and reviewed" because it will "damage the fabric of the ship" and could cause it to fall apart.
– The project, whose president is Prince Philip, has run massively late and overbudget, with its main backer, the Heritage Lottery Fund, cutting off payments for most of last year amid "serious concerns" over the operation's "governance and financial controls".
– The project managers have left.
– Senior officials of the Cutty Sark Trust have issued a series of misleading public statements about the project, directly at variance with what the trust has said in internal documents.