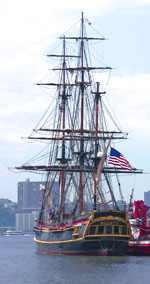 This week HMS Bounty, the replica ship built for the 1960 movie, "Mutiny on the Bounty,"  will be the centerpiece of the "Pirate Weekend"  in Newburgh, New York, on the Hudson River, sixty miles north of new York City.  The Bounty has also been featured in over a dozen films and television shows, including 1989′s "Treasure Island" with Charlton Heston, "Muppet Treasure Island" and the second and third "Pirates of the Caribbean" movies.
Pirate Weekend sails into Newburgh waterfront
In other news, eleven men have been charged with piracy in federal court in Norfolk, Va related to two attacks on US naval vessels off the coast of Somalia.
Pirate Suspects From Somalia Charged in U.S.