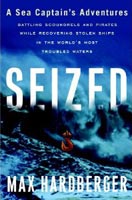 Max Hardberger's Seized, a Sea Captains Adventures – Battling Scoundrels and Pirates while Recovering Stolen Ships in the World's Most Troubled Waters is a fascinating account of one man's remarkable career and personal journey. In addition to working professionally as a crop-duster, school teacher, lawyer, and ship's captain, Max Hardberger developed the rather unusual specialty of returning stolen property, very large stolen property.  He steals back ships wrongly seized in foreign ports and returns them to their owners.

There is a cliche that petty thieves steal with guns while the big thieves steal with pens. Hardberger's career as a "ship extractor" began when as captain of the bulk carrier, Naruda, which had just discharged a cargo of rice in Haiti, a claim was filed against the ship for a short discharge. The claim was false and even if valid, should have been filed against shipper and not the ship. Nevertheless an unscrupulous merchant, paying off a corrupt judge in a third world port, just might have succeeded in stealing the ship. With guile, stealth, liquor for the guards, and a bit of bribery Captain Hardberger succeeded in slipping the ship out of Cap Haitian. It was the beginning of a highly varied career as a ship thief.
In Seized, Captain Hardburger describes sneaking ships out of Venezuela, Haiti, Trinidad, Belgium, Honduras, Mexico and Greece, as well as flying forty seven crop dusters out of East Germany. In the process he had to cope with corrupt officials, the Russian mob, political unrest, and a mixed bag of scoundrels, pirates and con men.
He describes the difficulty of sneaking ship out of port. Most ships have diesel engines which can make a lot of noise in the dead of night when trying to slip out of a port unnoticed. In one case, Captain Hardberger merely slipped the lines and let the ship drift out with the wind and current to a waiting tug. In another case, he arranged for a very noisy party at a neighboring waterfront whorehouse to mask the sound of the ship's engines starting up. The range of trickery, diversions and deceptions used to extract ships from ports around the world is highly entertaining.
What makes this memoir something more than a group of sea stories loosely strung together is that we also follow Captain Harberger's personal journey. This includes the highs and lows, from his passing the California bar exam to become an attorney (after completing a law school correspondence course,)  to the end of his marriage and the tragic loss of a daughter to heart disease. The memoir ends in the aftermath of Hurricane Katrina where he has lost most of his worldly possessions while still in mourning over his daughter's death. Nevertheless, it is clear that he will carry on. There is still work to be done and just possibly more ships to save.
Seized, a Sea Captains Adventures – Battling Scoundrels and Pirates while Recovering Stolen Ships in the World's Most Troubled Waters is a gripping story of real-life adventure.  A highly enjoyable read.