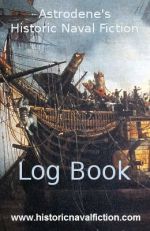 Fans of naval fiction either know or should know of Astrodene's Historical Naval Fiction web site and forum.   A wonderful resource, lots of great information on books both old and new, as well as very nice folks in the forum.  They are now launching a naval fiction newsletter, "'Log Book."   delivered by e-mail (with archival copies available on line.)  Go to the site to sign up.
Based on the first newsletter they are off to a great start.  A brief summary of the current issue:
Last month I was privileged to get an interview with Julian Stockwin ahead of the launch of his new novel in the Kydd series 'Victory' and with Alaric Bond who's new novel 'True Colours' is out this month.
There are 3 brand new naval fiction titles out this month together with some paperback edition releases.