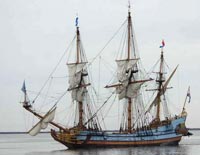 The Kalmar Nyckel will be featured in an upcoming documentary, "The Ship That Changed the World."
Delaware's sailing star – Kalmar Nyckel the 'wow factor' in new documentary
F ilm director Malcolm Dixelius knew he had found his "star" when he traveled from near Stockholm to Delaware two years ago to scout the Kalmar Nyckel, a replica of the Dutch-built sailing ship that preceded him here by about 370 years.

Earlier this week, the tall ship was ready for its close-up.
Dixelius' Deep Sea Productions film company shot the Kalmar Nyckel and its crew in action as it sailed in the Delaware Bay off the Lewes coastline. The film, a $100,000 TV documentary tentatively titled "The Ship That Changed the World," is being produced for National Geographic and will be telecast next spring in 124 countries — giving one of Delaware's own a boatload of exposure.
The Kalmar Nyckel, which was built as a faithful representation of the ship that in 1638 carried from Sweden the first European settlers to the area of present-day Wilmington, is serving as a movie stand-in. It was selected because it resembles the film's subject, now called simply "the Ghost Ship," that Deep Sea Productions found by accident in 2003 while combing the floor of the Baltic Sea in search of a plane that was shot down during the Cold War, Dixelius said.
Finding the Ghost — so named because so little is known about it — could be much more historically significant. Film crew members working with a scientific research team have determined that it is Dutch in origin and almost certainly is one of the early examples of what became during the 17th century the first worldwide trading empire, something scientists believed they would never find, he said.
"When we were pitching this to National Geographic, we were saying it was like someone found the first intact Model T Ford 350 years from now," Dixelius said.
Before filming the Kalmar Nyckel and its crew sailing the bay in period costume this week, Deep Sea Productions filmed the original during an expedition May 3 to 14. They used remotely controlled vehicles to film the totally intact Ghost Ship 400 feet down in the frigid Baltic east of Stockholm, too deep and cold to reach with divers.