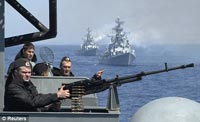 Two news stories, days apart demonstrate, at least to me, why the current efforts to combat piracy off the coast of Somalia are doomed to fail.  We posted previously how the tanker MV Moscow University was recaptured from pirates by Russian special forces involving the close cooperation of the ship's crew and military personnel.   When the pirates boarded the ship, the ship's officers and crew disabled the engines and locked themselves in a shipboard safe room, with supplies and communications.  Russian special forces boarded the ship by helicopter, captured the pirates and freed the ship with no loss of life to the crew or the Russian commandos, though there were causalities reported among the pirates.   The entire operation went according to plan.
Then it was reported a few days later that the Russians were releasing the pirates because they had no legal grounds to prosecute them. They had legal grounds to engage in a firefight but apparently not to take the pirates to court in Moscow.
As long as the rewards of piracy far outweigh the risks, there will only be more and more heavily armed young men in boats eager to attack shipping.    A policy of  "catch and release" works far better with trout than with pirates.
Captured pirates who seized Russian tanker are freed
The tanker was freed and its captors detained after they surrendered on Thursday following a gunbattle with forces aboard a Russian warship that killed one pirate, according to Russian authorities.
"In the absence of necessary legal agreements, it was impossible to bring these pirates to justice," a senior Russian Defence Ministry official, who spoke on condition of anonymity, told Reuters by telephone.
"A decision was adopted to set them free aboard one of the small vessels they themselves had used to attack the Moscow University tanker," the official said, adding that the ministry had been unable to establish the pirates' citizenship.
Earlier, Russian investigators said they were Somali and that they would be brought to Moscow for prosecution.
The international community has become increasingly frustrated with the murky legal arena surrounding piracy.
Somalia lacks the legal infrastructure to support trials, and captured pirates are often released because of disagreements over which country should try them.
Last month the U.N. Security Council, on Russia's initiative, suggested creating special piracy courts to plug a gap in the world response to the costly attacks on merchant ships off the lawless Somali coast.
"It is necessary to look for ways to try pirates with the help of international judicial mechanisms," the Interfax news agency quoted Russian Foreign Ministry spokesman Igor Lyakin-Frolov as saying on Friday.