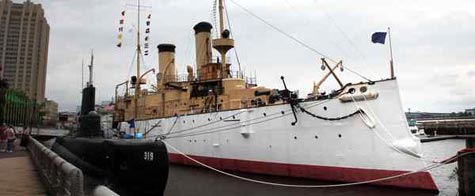 Extremely disturbing news.   The scandal-plagued museum appears to want to get rid of the historic ship Olympia any way that it can.
Historic warship's future may be sunk

The old warship has been part of Philadelphia's waterfront for 50 years and left lasting impressions on thousands of visitors who heard gripping stories of its role in the Spanish-American War.
Now the Olympia – the last surviving vessel from that 1898 conflict – could face an ignoble end as an artificial reef off Cape May if a new benefactor cannot be found.
The Independence Seaport Museum and the Navy have already checked with officials of New Jersey's Artificial Reef Program on the possibility of sinking the ship, once a source of national pride.
"Another option would be scrapping Olympia," said James McLane, interim president of the museum, which owns the ship and is adjacent to it at Penn's Landing. "But the Navy has told us that 'reefing' is better because it would allow divers to go down on it and would preserve Olympia."