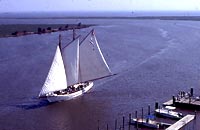 From the Bayshore Discovery Project:
Delaware Bay Days, the free two-day folklife festival celebrating the Bay and the Bayshore region, returns June 12 & 13 with events in Bivalve, Port Norris and Mauricetown, NJ, with a schedule featuring new activities as well as old favorites. Like last year, Saturday's activities are in Bivalve while Sunday's will be held at Lake Audrey in Mauricetown. Festival hours are Saturday from 11am-7pm, Sunday from 12-5pm.

On Saturday there is plenty of free parking in Port Norris and free shuttle buses to the festival site run all day. Saturday's activities begin at 11:00 a.m. with an old-fashioned street parade from Port Norris to Bivalve.
Once in Bivalve, there is plenty to see and do. New events will include old-fashioned Field Games held hourly, where kids can compete in sack races, toss games, tug-o-war, and more. A dress up area near the Schooner Playground and a puppet theater offer opportunities for creative role playing; and strolling pirates, stilt-walkers, puppeteers, and hug-a-bear will join in the fun. Kids can also compete in the Bivalve Blue Crab Races, play mini-golf, get creative in the crafts tent, build and float a boat, and make their own puppets.
Get something tasty from the Food Court area, where you'll find Jersey Fresh seafood, regional specialties and all of your festival favorites. Find a table under the Big Top for high energy entertainment all day from the Brown Street Chowder Society, the Philadelphia Brigade Band, Home Cookin', Castlerock, the finalists in the "Bayshore's Got Talent" competition, and the Whittington Family Singers. There will also be cooking demonstrations, craft demonstrations, historical exhibits, and vendors and educational exhibits of all kinds.
Down on the waterfront, you can relax and sample some New Jersey wines and beers, or enjoy a platter from the Raw Bar. Listen to performances by Jim Albertson, Steve Byrne, Ben Curtis, The Troubadour K.P., and The Aquanauts. Learn to clean and cook a fish, enter the crab picking contest, or step aboard the schooner A.J. MEERWALD for a cruise on the Maurice River.