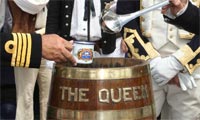 In early July we celebrated the 40th anniversary of the return of the SS Great Britain to Bristol. Yesterday was a more somber anniversary – the 40th  anniversary of "Black Tot" Day.
Ceremony to mark ending of rum tot at HMS Victory

One of the blackest days in the history of naval seamen – the ending of the rum tot – will be marked with a ceremony on the quay at HMS Victory, Portsmouth, on Friday 30 July.
The 40th anniversary of what is known as Black Tot Day will be marked with a re-enactment of Up Spirits, the serving of the rum tot to all Royal Navy sailors.
The final Up Spirits took place between 11am and 12 noon on July 31, 1970, when the last measure of Pusser's rum was served to the crews of Royal Navy ships.
It ended an enshrined 300-year tradition of a daily rum tot for each serving mariner.
Thanks to Alaric Bond for reminding us of this day of sorrow.