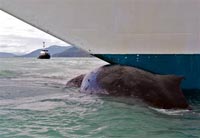 Last summer,  the Sapphire Princess, a cruise ship operating on the South-West coast of Alaska, arrived in the port of Vancouver with a 70 foot long fin whale impaled on its bulbous bow.   Wednesday, almost exactly a year later, another dead whale, an adult female humpback measuring 43 feet in length, was found pinned to bow of the same ship.  This is the third reported whale strike by the company's Alaska fleet in a decade.
Dead whale found pinned to Alaska cruise ship

The whale was discovered on the ship near Tracy Arm, a fjord known for its tidewater glaciers, waterfalls and abundant marine life. Tracy Arm is a popular destination for Alaska cruise ships.
The whale is believed to have become attached to the bow overnight before being discovered Wednesday morning.
About a dozen biologists and marine-mammal experts were examining the whale carcass on Thursday, NOAA said. Experts will conduct a necropsy on Friday to try to determine the cause of death, NOAA said.
"We have strict whale avoidance procedures in place when our ships are in the vicinity of marine life," the company said, adding the cruise line immediately notified government authorities when the whale was found.
This is the third recorded ship strike by a Princess cruise ship in the last decade.  The company previously faced criminal charges after another of its ships, the Dawn Princess, failed to operate at a slow, safe speed while near humpback whales and in 2001 hit and killed a  pregnant humpback whale.  In a 2007 plea bargain, Princess Cruises, owned by Carnival Corp., paid $750,000 in fines to settle the charges.