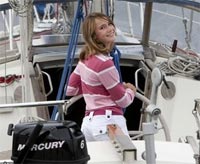 The teen-round-the-world-sailing-escapades may be starting all over again.
Laura Dekker has Dutch court permission to sail around the world
A Dutch court cleared the way Tuesday for 14-year-old Laura Dekker to embark on a risky attempt to become the youngest person to sail solo around the world, an adventure that could begin in the next two weeks.

Judges at Middelburg's family court lifted a guardianship order imposed on Dekker last year after she said she wanted to set sail when she was still just 13. Her plan ignited a worldwide debate on how far parents should go in supporting or encouraging their children's improbable dreams.
"With this decision, the responsibility for Laura lies with her parents," said presiding judge S. Kuypers. "It is up to them to decide whether Laura can set off on her sail trip."