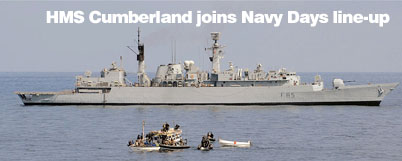 Navy's Summer Extravaganza Returns to Portsmouth in 2010
Navy Days at Portsmouth Naval Base, Friday 30th July – Sunday 1st August, will feature serving warships of the Royal Navy, ships of foreign navies, thrilling naval displays, historical re-enactments and the world-class attractions of Portsmouth Historic Dockyard, including HMS Victory.
The frigate HMS Cumberland which last year was on an anti-piracy patrol in the Indian Ocean, has joined the list of top participating vessels at Portsmouth Navy Days.  Thanks to Alaric Bond for pointing it out.