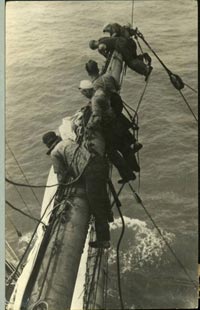 Be warned.  If you are interested in sailing ships, do not click on the link below  if you have anything important to do  for the next fifteen or twenty minutes or possibly much longer.  Here is a absolutely fantastic archive of roughly two hundred photos and drawings originally published in Life Magazine of sailing ships and sailors, primarily from the last days of commercial sail.    The only thing that is a disappointing is that most photos are not titled and no information is given on which ship is being photographed or even the date the photo was taken.  Nevertheless,  there are some wonderful shots well worthy of contemplation if not outright study.    The Life Picture Collection Photo Archive is owned by Time Inc. and all the images are available as prints.
Sailing Ship Archive from Life Magazine on Google
Thanks to Wojtek (Voytec) Wacowski on the Tall Ship & Traditional Sail Professionals Linked-In Group for pointing out the photographs.