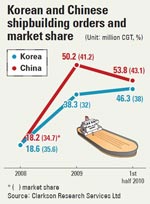 For the first time since 2003, Korean shipyards have lost their position as the  world's number one shipbuilder to China.
China overtakes Korea in shipbuilding deliveries
According to Clarkson Research Services Ltd., a London-based market research firm, Korean shipbuilding companies came in second after Chinese ones in terms of new orders, order backlogs and delivery, the three indices that determine industry competitiveness in the sector.

In the US, the decline in shipbuilding continues as Northrop Grumman announced that it will be closing its Avondale shipyard near New Orleans and is considering withdrawing from shipbuilding altogether.   Northrop Grumman also owns  Ingalls Shipyard in  Pascagoula, Mississippi   as well as Newport News Shipbuilding, in Newport News, VA.
Northrop Grumman to close Louisiana shipyard, may sell off naval business
Northrop Grumman, one of the Navy's biggest contractors, said Wednesday that it plans to close one of its seven shipbuilding yards and may sell or spin off its entire naval business, signaling a major shift in its strategy.
The company said it will shut down its shipyard in Avondale, La., near New Orleans, and move all work on amphibious vessels to its facility at Pascagoula, Miss., by 2013. Northrop said it has hired outside advisers to help it evaluate whether selling its shipbuilding line makes sense for its shareholders and government customers.
"Recognizing our company's long-term strategic priorities, we foresee little synergy between shipbuilding and our other businesses," Northrop chief executive Wes Bush said in a statement. He said the consolidation to Northrop's Pascagoula facility will "reduce future costs, increase efficiency and address shipbuilding overcapacity."
For Northrop, shipbuilding was once seen as core to its business. The company has been a major supplier of destroyers, amphibious assault ships and other vessels for the Navy and Coast Guard. In 2001, it bought Newport News Shipbuilding in a $2.6 billion deal that made it one of the world's biggest shipbuilders.
But in recent years, the Pentagon's priorities have changed from complex and costly weapons programs to smaller, more agile technologies that can be used in modern wars against shadowy foes.