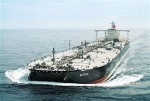 Depending on which of the various news reports you read, the MOL 314,016 dwt tanker M. Star suffered either an explosion, was hit by a grenade or was struck by a freak wave caused by an earthquake while transiting the Straits of Hormuz.  An intriguing and developing story.
Giant Supertanker Suffers Mystery Explosion

Reports just in that the 160,000 tonne MV M. Star, a Very Large Crude carrier (VLCC) tanker belonging to Mitsui OSK Lines (MOL)suffered an explosion at 00.30 hours local time whilst West of the Strait of Hormuz in Omani territorial waters. The ship, which suffered hull damage, was reportedly subjected to 'an attack seemingly from external sources' according to the owners.
Grenade may have caused MOL tanker explosion
A VERY large crude carrier operated by Japan's Mitsui OSK Lines was today damaged by an explosion in the Strait of Hormuz , with all initial indications pointing to a deliberate grenade attack.
Lloyd's List spoke with the vessel's master, Manoj Mathew, who said that the explosion was severe enough to have blown off five doors on the starboard side of the vessel's accommodation and damaged the starboard lifeboat.
Japanese tanker damaged near Oman
An early report from the Japanese transport ministry said there had been an explosion on board the ship which could have been an attack.
But a port official in the United Arab Emirates says the vessel was hit by a freak wave, triggered by a small earthquake.
Causes behind Oil Tanker, M. Star incident still mysterious
The oil tanker, M. Star flying the flag of the Marshall Islands has suffered mysterious incident, whose causes are not yet known.   The competent authorities have embarked on investigating causes shrouding the accident, which did not result in any pollution to the environment or casualties.