The lovely schooner A.J. Meerwald will be sailing out of Cape May, one of the loveliest towns in New Jersey, through early September.   From the folks at Bayshore Discovery Project: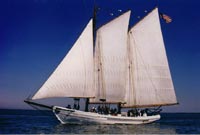 Utsch's Marina in Cape May will be the port-of-call for New Jersey's Tall Ship, the authentically restored 1928 oyster schooner A.J. Meerwald, from August 3 through Sept. 5, 2010. The Meerwald offers unique sailing experiences for visitors young, old and in-between. Join a pirate crew, sample some salty oysters, trawl for marine life, send the kids off for a day-camp on the high seas, or take an evening cruise after a day on the beach.

Public Sails are available at 1:30 and 5:00 p.m. daily except on Wednesdays. Discounted "Family Special" sails are offered on Saturday mornings. On Wednesday's a one-day camp for children 10-16 years old is offered. All sails offer opportunities to learn about the ship and participate in hauling lines and hoisting sails. Various themed sails offer additional programs. Passengers are also welcome to bring food and beverages aboard if they wish.
Sailor for a Day Camps are offered on Wednesdays, August 4, 11, 18, 25 and Sept 1 from 9:00 a.m. to 4:00 p.m. This full day of activities on board the Meerwald offers a unique summer camp experience for children 10 to 16 years old. Campers hoist the sails, haul in the trawl line, learn about local marine life, navigate the ship, take the helm, tie some 'salty' knots, sing sea chanties, and more.
To learn more go to the Bayshore Discovery Project.