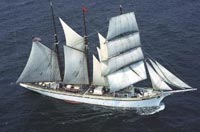 Philadelphia's tall ship, the barquentine Gazela has returned to to sea after five years of being limited to protected water sailing due to a damaged rudder.  With a new rudder, the turn-of-the-century Portuguese-built barquentine set sail from Philadelphia bound where she participated in a Portuguese festival in New Bedford, MA last weekend.    She is due to return to Philadelphia in about a week and then depart a week later for New York Harbor.
Philadelphia's own tall ship heads back into service
Thanks to Tom Russell of the Traditional Sail Professionals Linked-in Group for passing on the news.