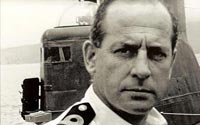 Captain John Moore, submarine captain, developer of covert landings techniques of the Special Boat Service and editor of Janes Fighting Ships, died last month at age 88.
Jane's Fighting Ships, an annual publication which became the leading authority on the world's navies, had been founded by Fred T Jane in 1898. Moore was its editor from 1973 to 1987. Before the age of computers and electronic databases he organised this superlative, fact-packed encyclopedia from a garden shed on the Pevensey marshes.

To a background of Beethoven's music, he opened his daily bag of mail and sorted the thousands of photographs sent to him by his network of informants – these included governments, serving officers in foreign navies and even, on occasion, defectors from the Soviet Union. His task was to extract the truth from a welter of fiction and misinformation. His conclusions were deferred to by serving naval officers, intelligence experts and ship spotters.
John Evelyn Moore was born on Armistice Day 1921 at St Illario near Genoa, where his father ran an import-export business. The family then emigrated to New Zealand, John picking up a lifelong love of rugby; he was eventually sent to school in England, completing his education at Sherborne. It was on the long sea journeys to and from the antipodes that he formed his love of the sea, and he joined the Navy in September 1939.
In 1944 he volunteered for "the trade", and served in the submarines Rover,Vigorous, the captured U994 and Trenchant. He passed his "perisher" course in 1949 and went on to command the submarines Totem and Alaric, and then the 1st Submarine Squadron in Sydney and the 7th, based in Singapore. Moore used to recount how, on a visit to Tonga, a typically well-built son of Queen Salote become stuck in the hatchway of a submarine and had to be eased out before the submarine could dive.
During the Second World War Moore had experienced at first hand the difficulty of landing men from submarines and the submariner's dislike of entering shallow water. He determined to do something about these problems when in Singapore during the Confrontation between Malaysia and Indonesia between 1962 and 1966, taking a special interest in the operations of the Special Boat Service.
By 1965 "Goldfish", an underwater method of leaving and re-entering submarines, was under development by the Navy in the Far East. The technique was based on the experience during the Second World War of the midget submarines known as X-craft; but Moore took this further, inventing a homing device called "Trongle" which enabled swimmers to find their parent boat at night.
Next he converted a Mark 20 torpedo ("a useless device for its original task") to become an underwater delivery vehicle which he called Archimedes, and he experimented with this with the then 2nd Lieutenant Paddy Ashdown, RM.
Moore also adapted a Polaroid camera to take reconnaissance photographs through submarine periscopes, and eventually perfected a technique whereby special forces could be parachuted to a waiting sub, collect their gear and proceed to their targets.
Notwithstanding a lifetime in a disciplined service, Moore never lost his independence of mind. It is said that he refused promotion to rear-admiral for the certainty of long-term employment at Jane's – on his retirement from the Navy in 1973 he became the first naval officer to be its editor.
An affable and sociable man, Moore was a great raconteur. He wrote several books, the best being Submarine Warfare: Today and Tomorrow (1986), which criticised the West's preparedness for war. In 1992 he gave his papers to the Churchill Archives at Cambridge.
His funeral service, which he planned, ended with a chorus of Yellow Submarine.
Thanks to Alaric Bond for forwarding the obituary