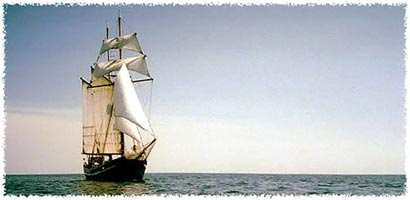 Earlier this week we posted about Tall Ships Chicago 2010.   Among the roughly 20 tall ships participating is the 118-foot topsail schooner Unicorn whose crew includes six Chicago-area girls from the "Sisters Under Sail" program.
"Adventure of a Lifetime" is About More Than Sails, Knots

The ship's owner had four girls of her own that she raised on the boat and realized how giving other girls an opportunity to sail on their own was a way to teach life lessons.
"We saw our own daughters growing up aboard ships crewing in their summer months, and when they were ready to go off to college I saw that they were armed with so much more confidence than I ever had when I was their age, and we knew we had something really special that we could offer just for girls," said Dawn Santamaria.
Roughly 400 girls have gone through the program, taking away more than just a knowledge of knots and sails.