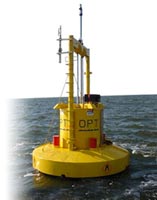 Two projects are underway in Maine and Oregon to produce energy from ocean waves.   Ocean Renewable Power Company, in Maine, is using horizontal turbines to capture the energy of ebbing and flooding tides.  Initial tests have met or exceeded their targets and the company hopes to install a commercial version of the the test turbines now in place and be hooked in to the Bangor Hydro Electric Company grid as soon as 2011.
Maine offshore energy project exceeds expectations

On the West coast, Ocean Power Technologies is  navigating the regulatory maze to be allowed to test offshore buoys to capture and convert wave energy into electricity.  They recently concluded a Settlement Agreement with 11 state and federal agencies for a utility-scale wave power project in Oregon.  One source is reporting that they have also received approval from the Federal Energy Regulatory Commission.
Ocean Power Technology Gets Underway In Oregon
The deal will allow the deployment of ten PowerBuoy devices. PowerBuoys move up and down with waves – allowing a power take-off to drive an electric generator. The electricity is transmitted to land by an underwater cable.
When complete, the 1.5 megawatt capacity wave station should produce enough energy to power a thousand homes. The company is already manufacturing the first 150 kilowatt PB150 PowerBuoy at the Oregon Iron Works.