It was a beautiful and busy weekend in New York harbor.  On Sunday, I missed the 18th Annual Running of the Great North River Tugboat Race & Competition but Will over at the Tugster blog has some great photos.   For the real tug fans, the big, annual Waterford Tugboat Roundup starts this Thursday, September 9th and carries on through Sunday, the 12th.  Waterford is about 160 miles north of New York City at the junction of the Hudson and Mohawk Rivers.
And by the way, anyone struck with "tug life envy" should definitely read Bowsprite's recent post, "how to simulate the tugboat feeling."

On Monday, I launched my almost brand new hybrid inflatable Advanced-Frame Expedition kayak near Liberty State Park in the wupper harbor and paddled up to Hoboken.   It was a glorious paddle on a beautiful morning.  I worked my way north in the eddies along the shoreline and then rode the ebb current coming home. Delightful.
The only unpleasant aspect of the paddle was when the ebb tide seems to turn a reddish chocolate brown color.   It was an algae bloom – red tide, a a roughly ten mile swath in the Hudson.
Beware of the red tide! U.S. Coast Guard says 10-mile-long trail of algae in NY Harbor is dangerous
The worst recent red tide to strike New England was in 2005 in Massachusetts Bay and Cape Cod Bay.  Yesterday's  outbreak should disperse out to sea in a few days, with luck.
A photograph of the red tide in the Hudson taken by Bowsprite: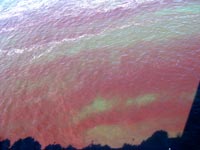 .
.
.
.
.