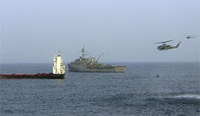 Twenty-four U.S. Marines from the 15th Marine Expeditionary Unit's Maritime Raid Force stormed the German-owned containership M/V Magellan Star today, capturing the pirates that had seized control of the ship in the Gulf of Aden off the coast of Somalia.   No shots were fired and there were no injuries.  The crew had locked themselves in a safe room aboard the ship to await the arrival of assistance.
U.S. forces board pirate-captured vessel, seize control

Recent pirate attacks have demonstrated both the success and the failure of the ongoing multi-national naval flotilla to combat piracy off the Horn of Africa.  The M/V Magellan Star was one of three ships operating in the "Internationally Recommended Transit Corridor (IRTC)" in the Gulf of Aden which is patrolled by international naval patrols.  The Greek tanker Olib G was successfully hijacked by pirates on Wednesday morning, while the Jamaican-flagged bulk carrier M/V Miltiades was attacked by pirates who were subsequently driven away by naval forces.  The M/V Miltiades was also attacked last year in the Gulf of Aden but onboard security forces repulsed the attack.
The continued attacks by pirates in waters that are heavily patrolled by the naval forces in not not encouraging.  An estimated 24 vessels with 429 people onboard are believed to be held by Somali pirates as of September 1.