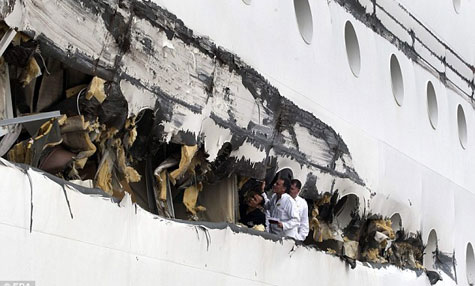 The Costa Classica's current cruise has not gone well.   First, on a stop at Korea's southern resort island of Jeju, 44 Chinese tourists abandoned the tour group en masse.   South Korean police have located eleven of the group, but 33 remain unaccounted for.  Jeju has been a frequent stopover for illegal immigrants from China seeking employment in Korea.
44 Chinese Tourists Abandon Tour Group in Jeju
Then early yesterday, the ship collided with a cargo vessel at the mouth of the Yangtze River.  The collision left a gash over 60 feet long in the side of the ship.  Three passengers where taken to the hospital.  Other minor injuries were also reported.
Three people hospitalised after cruise ship collides with cargo vessel in Asia