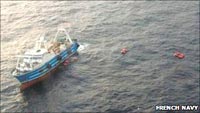 The factory fishing ship Athena caught fire early today in the Atlantic, 230 miles south-west of the Isles of Scilly. Eighty one non-essential personnel were evacuated to liferafts and subsequently rescued as the  remaining  30 aboard fought the fire, which is now reported to be under control but not extinguished.  The Athena was built in 1992, but was rebuilt in China this year due to damage from a previous fire.
Ship fire crew rescued from life-rafts in Atlantic

The Athena, a factory fishing ship, was carrying 111 people when the fire started 230 miles (370km) south-west of the Isles of Scilly.
The fire is now under control and there are no reports of any injuries.
Falmouth coastguards are co-ordinating an air and sea rescue operation and a cargo vessel is also alongside helping to rescue those in lifeboats.
Coastguards in Falmouth were alerted to the incident just after 0600 BST.
A spokesman for the Maritime and Coastguard Agency (MCA) said: "We are co-ordinating a search and rescue mission, but it's a long way from either the UK or French coast."
Coastguards said that five ships had responded to the emergency call and that the nearest, the container ship Vega, was at the scene and attempting to take on board the crew who abandoned the ship in about 10 life-rafts.
A Falcon 50 fixed-wing aircraft was also scrambled from a French airfield to provide a communications link between the rescue scene and its co-ordinators.
A spokesman from RNAS Culdrose in Cornwall said a rescue helicopter had been scrambled and was being held on the Isles of Scilly for refuelling.
Thanks to Alaric Bond for passing the article along.