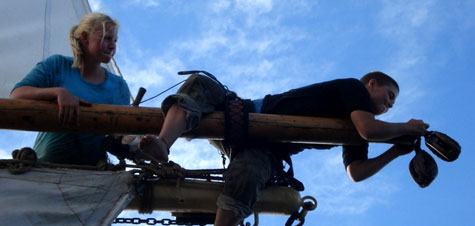 An interesting article by Dan Moreland, Captain and owner of Picton Castle from Sail Training International.
Picton Castle's 5th Voyage around the World
We are now 1/3rd of the way and 10,000 miles along in this, Picton Castle's fifth voyage around the world. This really has been an excellent voyage thus far with truly a great gang, officers and trainees alike; set out in May south to the Caribbean no problems and only one gale and even that one helped us on our way. Quick Panama Canal transit and I love that country anyway, Galapagos good enough. We had a great time at that storied isle for a week after 20 days at sea, all under sail. Short 300 mile hop to Manga Reva and French Polynesia and the lovely lagoon anchorage there, and wonderful overnight sailing/camping trips in longboats and dories to motus for small boat handling training and experience. Trading for black pearls also popular there. Then a ten day passage in fair winds to Rarotonga for a long visit. Wonderful time there at our homeport island. Onward 250 miles NW towards Palmerston Atoll. and then continuing on to PukaPuka Atoll up by Samoa w/14 islanders aboard! On top of our full complement. All this with permission (and even requested by) of the Cook Island Ministry of Transport and of course, literally tons of supplies to replenish the island-nice to have cargo hold sometimes.
We were asked to take desperately needed food supplies on a mission of mercy to Puka Puka which has not had a supply ship in many months. Keen to help in Rarotonga we put out the call for emergency goods for this atoll and soon the wharf was piled high with emergency rations. And the islanders to get home. My mates Melbourne and Haua Marsters (of the famous Palmerston Marsters, he of three island wives in 1868) came up with us as far as Palmerston.