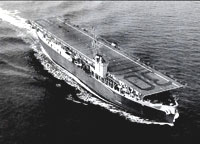 In 1940 and 1941, Moore McCormack Lines took delivery of four Rio class C3 Class passenger/cargo liners from Sun Shipbuilding.   They were the Rio Hudson, the Rio Parana, the Rio de la Plata and the  Rio de Janeiro.  In May of 1942, they were all requisitioned by the US government and converted to small aircraft carriers known as "baby flat-tops."   Three were given to the Royal Navy and one was retained by the US Navy.   The Rio Parana, renamed HMS Biter, had a difficult service life, being hit by a torpedo from one of her own aircraft and then later being damaged by fire while in port.  The Rio de Janeiro, however had the most tragic history.  Renamed HMS Dasher, she sank after an explosion during aircraft refueling on March 27, 1943, with a loss of 379 out of 528 crewmen.    At the time, the cause of the explosion was covered up.  Now author and historian John Steele and his wife Noreen have written a book, The American Connection to the Sinking of HMS Dasher, examining the causes of the tragic sinking.
After 67 years, the truth of HMS Dasher tragedy is revealed

It remains one of Britain's worst war-time losses of life – but on this occasion the Germans were nowhere to be seen.
Nearly 400 navy personnel drowned or were burned to death when HMS Dasher exploded off Arran in March, 1943. There were 149 survivors but, in spite of a high-level inquiry, they were never told what caused the disaster.
When the official announcement of the aircraft carrier's loss was published in the London Times, it was fully two years later, and in tiny print.
Now, however, Ardrossan author and historian John Steele and his wife Noreen are to reveal in a new book that design faults in the US-built vessel's 1942 conversion into an aircraft carrier caused petrol spills. All it took was a spark from a cigarette and the ship's fate was sealed.
Steele also believes that at least 26 of the Dasher's dead were unceremoniously buried in two unmarked graves at Ardrossan cemetery. "The secrecy at the time was an insult to those who died, the survivors and the bereaved," said Steele. "The British and the Americans argued about who was responsible for the catastrophe and the entire affair was suppressed, to our lasting shame."
Thanks to Irwin Bryan for passing the article along.