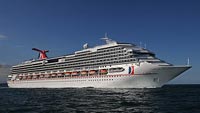 Update: Tugs have been dispatched from Long Beach to tow the stricken cruise ship to Ensenada, Mexico to disembark passengers.
An early morning fire on Monday in the engine room on the Carnival Splendor has left the ship dead  in the water in the Pacific Ocean off the coast of Mexico.  The 952-foot Carnival Splendor is one of Carnival Cruise Lines' biggest ships at 113,000-tons with a reported compliment of 3,299 passengers and 1,167 crew members.   The fire is reported to be extinguished and there are  no reported injuries
The U.S. Coast Guard has sent three cutters and a helicopter and the Mexican Navy is reported to have sent a patrol boat and aircraft.
Carnival Splendor Catches Fire Off Mexico, Ship in Limbo
Coast Guard responds to fire aboard cruise ship en route to Puerto Vallarta
Thanks to Irwin Bryan for the heads up.