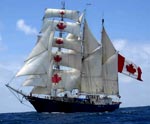 The CBC's program "Land and Sea" broadcast their documentary "Concordia: Tall Ship Down" today, focusing on the knockdown and sinking of the SV Concordia.   It can be watched on-line at the link below.  The documentary doesn't answer the outstanding questions about the sinking, but is a fascinating account by those onboard when the ship was hit by what many believe was a microburst.
Concordia: Tall Ship Down

On September of 2009, the tall ship SV Concordia sailed out of Lunenburg NS.   Joining the crew on board were students attending the Class Afloat program – a mix of academic studies and sailing skills.
Five months later, on a blustery day off the coast of Brazil, the unthinkable happened.   Without warning, The Concordia was knocked over on her side and began to flood with water.  18 minutes later, she sank. For everyone on board it was a harrowing escape, a fight for survival, and an experience that will haunt them forever.
In this episode of Land and Sea, first-hand accounts of a brush with death on the high seas.