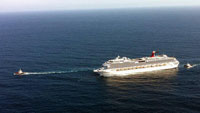 How could an  fire in one of two engine rooms do sufficient damage to the electrical distribution system on the Carnival Splendor to completely disable the ship?   The answer isn't obvious. The Carnival Splendor is diesel electric powered, which is to say, instead of the ship's engines connecting to the propellers by shafts, each of her two propellers is driven by an electric motor.   Diesel engines connected to generators provide the power to drive the propellers, as well as to make the ice cubes, heat the hot tubs, and provide all the other electricity needed by this small city at sea.

According to Carnival, the ship has a forward and an aft engine room with three engines in each.  Each engine room is connected to a switchboard.  As reported in USA Today:  A generator for an engine caught fire in the aft engine room 6 a.m. Monday, damaging a switchboard and "preventing the transmission of electricity to other machinery, including the propulsion motors," said Carnival spokeswoman Joyce Oliva.
Why would a fire in the aft engine room knock out power distributed from the forward engine room?   The fire appears to have revealed  a significant design flaw somewhere in the system.   It will be interesting to see what the US Coast Guard and the Panamanian authorities discover.