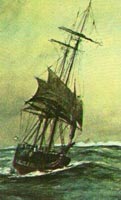 On December 11, 1710, the English ship Nottingham Galley came ashore on Boon Island, off Cape Neddick, Maine, stranding its 14 man crew, of whom four would subsequently die.  It became one of the best known shipwrecks in New England history.    The Maine State Museum marks the 300th anniversary with a new exhibit of objects recovered from the underwater wreck site of the Nottingham Galley recovered from the sea floor by archaeologists in 1995.  The exhibit will run through March 2011.   What actually transpired on the  Nottingham Galley and on the rocky ledge that is Boon Island remains controversial three hundred years later.
300th anniversary of Nottingham Galley's wreck sparks interest in Boon Island

Three centuries later, the harrowing tale of the 10 men who survived the shipwreck sparks intrigue and controversy. The story includes cannibalism and conflicting accounts published soon after the 10 survivors were rescued — still being examined and discussed today.
"I'm going to make the case that this is the most important shipwreck in all of maritime history," said Stephen Erickson, who has extensively researched the Nottingham Galley and published an article on the subject in New England Quarterly. "The circumstances of survival make this interesting and horrifying."
Before taking off for Boston from Ireland, the Nottingham Galley took on cheese and butter, which the crew relied on after the wreck. Ultimately, they turned to a fellow crew member who had died.
The conflicting accounts add a bit of intrigue as well.
If it were up to Capt. John Deane, he'd be portrayed as a hero, Erickson said. But his crew mates accused him of committing insurance fraud and crashing the boat on purpose. And Erickson said he has caught Deane in more than one lie in researching the shipwreck.
Erickson makes the case that the Nottingham Galley consisted of smugglers interested in trading with the French, but there was a mutiny on the way to Ireland, he said, as Deane's plan to commit treason was something his crew couldn't accept.
"The cause of the wreck is rooted in this mutiny," he said. "Common sailors took on their captain in the court of public opinion in England. Nowhere else in maritime history does this happen."
Thanks to Irwin Bryan for passing along the article.