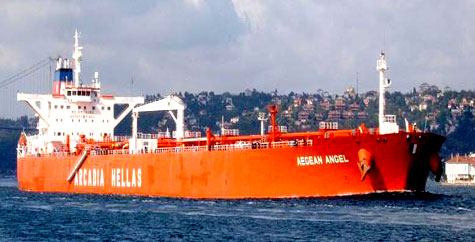 The 160,000 dwt  tanker Aegean Angel was en route from Tallinn, Estonia, to Houston, Texas when it encountered heavy weather northeast of Bermuda on Thursday.  A large wave is reported to have struck the ship, killing the captain and the chief engineer, who had gone forward to inspect for damage.  Several others, including the first officer, were reported to have been injured.
Wave hits tanker in mid-Atlantic, two killed

"While they were forward, a heavy wave broke on deck, the seamen were struck by the water and knocked down, and the master and chief engineer died immediately," Capt. Mattheou Dimitrios, quality and safety manager for Arcadia Ship Management of Athens, Greece said.
The incident occurred about 800 miles (1350 km) northeast of Bermuda.
The first officer was injured and was in stable condition aboard ship awaiting a U.S. Coast Guard helicopter to pick him up and take him to Bermuda for further treatment. The ship was expected in Bermuda about Jan. 3, Dimitrios said.
The vessel sustained only minor damage. It will stop in Bermuda to take on a new captain and chief engineer and then continue on to Houston with its cargo of fuel oil, Dimitrios said. It is expected in Houston Jan. 7 or 8, he said.