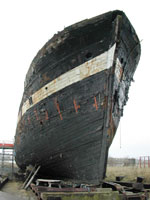 The clipper ship City of Adelaide (later HMS Carrick), the oldest surviving composite clipper ship in the world, is being made ready for her long trip home to her namesake city in Australia, from her current berth in Irvine, Scotland.
Carrick gets ship-shape for Oz voyage
The Carrick could soon be ship-shape for a move from Irvine to Oz – after phase one of preparation work on the 145-year-old vessel was completed this week.

Specialists have spent the last fortnight cleaning the clipper's interior and treating the timbers to eliminate the risks of any insect infestation making the trip down under.
The work was the first phase of the preventative treatment. The final phase will take place during the concluding stages of preparation for her voyage.
The Clipper Ship City of Adelaide, who were given preferred bidder status by Fiona Hyslop, Minister of Culture, are now on course for the vessel to arrive in Adelaide in time for the 175th Anniversary of the Foundation of the State of South Australia in 2011.