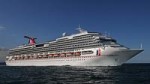 Carnival Cruise Line posted the following today on their website:
Carnival Cruise Lines has cancelled additional departures of the Carnival Splendor including the January 16, 23, 30 and February 6 and 13, 2011 voyages to allow for additional repair time following an engine room fire aboard the vessel in November. The ship is now scheduled to re-enter service February 20, 2011.

As repairs have progressed and damaged components tested, additional issues have been discovered. Also, some of the needed parts are not readily available and are being manufactured in Europe. The ship is currently in San Diego, however, it will sail to San Francisco in mid-January where repairs will be completed at a dry dock facility.
About all that we know about the fire is that it started in or around one of the diesel engines in the aft engine room. The crankcase was mentioned.  Crankcase fires were once a significant problem on large diesel engines, though now with the use of explosion doors, oil mist detectors and other systems, the problem is generally manageable.
Here is the idle speculation. Why would the repairs be delayed, and why is the ship being sent to a drydock?  My guess, and it is only a guess, is that the machinery damage is more extensive than had been originally estimated and the easiest way to replace the damaged machine, whether it be a new crankcase, engine frame, or whatever it may be, is to cut a hole in the side of the ship to remove the damaged equipment and reinstall the new.  As this is all below the waterline, a putting the ship on dock is a good idea.
Then again, the dry-docking may just be a matter of convenience.  Carnival may just be using the time while waiting for the new equipment necessary to repairing the ship as an opportunity for a "shave and a haircut" dry-docking.   As the ship was only delivered in July of 2008, this still might be a touch early even for quick dry-docking.
Anyone out there have a better handle on what is going on?  Does anyone have a better guess?