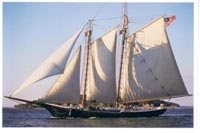 The South Street Seaport Museum in New York City is reported to be attempting to sell off the historic schooner, Lettie G. Howard.   The Lettie G. Howard is a wooden Fredonia schooner built in 1893 in Essex, Massachusetts, USA.   In past years the museum has often not succeeded in booking revenue generating educational programing on the schooner.  Sources are now quoted as saying that the schooner costs too much to maintain given that it has not been sailing frequently.

The museum announced two years ago that it was also seeking to sell the windjammer Peking.  New rumors have surfaced about the possible disposition of the ship.  The Peking is a steel-hulled four-masted barque built in 1911,  one of the so-called Flying P-Liner of the German company F. Laeisz and is one of the last generation of windjammers used in the nitrate trade and wheat trade around the often Cape Horn.
Sadly, the South Street Seaport is primarily a shopping mall on the East River of New York.  If the Museum succeeds in selling one its two schooners and one of its two windjammers, the process of wholly "malling" the Seaport will move one step closer to completion.
Seaport Museum May Look to Sell Off Historic Schooner
Museum looks to save ship by selling some
Thanks to Tom Russell of the Traditional Sail Professionals Linked-In Group for passing the news along.