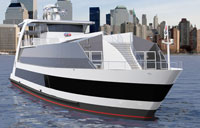 Earlier this week we posted about Cakewalk, a luxury yacht built at Derecktor Shipyards in Bridgeport, Conn.   Here is quite different vessel now under construction at Derecktor.    Statue Cruises, a subsidiary of Hornblower Cruises, has hired Derecktor to construct the world's first hybrid ferry using hydrogen fuel.  An existing hull is being used for the 600 passenger vessel which will feature hydrogen fuel cells, solar panels and wind turbines backed up by high efficiency diesel engines.  Delivery is slated for April 2011.  This will be the second hybrid ferry operated by Hornblower and its subsidiaries.    The first operates in San Fransisco and utilizes vertical wind turbines and solar panels in addition to diesel propulsion.
Statue Cruises orders fuel cell powered hybrid ferry

The contract is for the conversion of an existing hull in what one published report says is a $4 million retrofit.
The 1,400-horsepower Hornblower Hybrid will run on a combination of energy generated by Tier 2 diesel engines, hydrogen fuel cells, solar panels and wind turbines. Power will come from a proton exchange membrane fuel cell that turns hydrogen into electricity. In addition, solar panels and wind turbines will help power the vessel. The Tier 2 diesel engines kick in to cover additional energy needs.
The New York Hornblower Hybrid follows the 2008 launch of the San Francisco Hornblower Hybrid, the United States' first hybrid ferry. San Francisco-based Hornblower Cruises & Events created both vessels and operates Statue Cruises, the concession holder authorized by the National Park Service, Department of the Interior to serve the public at the Statue of Liberty National Monument and Ellis Island.
"By combining hydrogen, solar and wind power, Hornblower will minimize its environmental impact as we transport guests to popular national landmarks like the Statue of Liberty and Ellis Island. Our goal is to reduce emissions to the greatest extent possible, with a goal in the future to eliminate them entirely during a cruising day," says Terry MacRae, CEO of Statue Cruises and Hornblower Cruises & Events. "We expect this pioneering project to inspire continued industry innovations. The technology on the Hornblower Hybrid is now scalable for other hybrid ferries, hybrid yachts and even hybrid tugs. Some may say we are at the turning point in modernizing marine technology and Hornblower plans to be leading the way."
"This is a genuinely breakthrough project, not only for us but for the U.S. marine industry. This boat will produce minimal carbon emissions and sip, rather than guzzle, diesel fuel. Along the way it will help make New York harbor a cleaner, safer and more pleasant place. As a local shipyard, we're extremely pleased to have this project," says Gavin Higgins, Derecktor Vice President for Business Development.