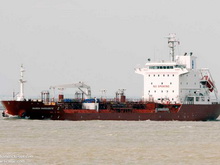 A Ukrainian sailor, on a Dutch ship in international waters steaming toward Houston, Texas, got into a fight with a fellow crew member  New Year's Eve and the next morning was found dead in his cabin.   An autopsy is being performed to determine the cause of death as the various authorities discuss the jurisdiction if it is determined that a crime has been committed.
Death at sea poses jurisdiction puzzle to 3 nations – Ukrainian dies on Dutch vessel going to Houston

The vessel Alexia, a general cargo ship, docked Wednesday in the Houston Ship Channel after a voyage from Hamburg.
The FBI is handling the case under "foreign police cooperation" but has not detained the other man involved in the fight, who is being held aboard the vessel by the ship's captain, Buchai said.
The Harris County Institute of Forensic Sciences is conducting an autopsy to determine the cause of death for the Ukrainian seaman, said Shauna Dunlap, spokeswoman for the FBI. No signs of a gunshot or stab wound appear on the body, she added. Dunlap declined to identify either man, citing an ongoing investigation.
"If it's determined that a crime occurred then the next step is we have to determine where the crime occurred and figure out where the law enforcement jurisdiction lies," Dunlap said.
Because the incident occurred on a Dutch vessel, the Netherlands likely has jurisdiction over an investigation and potential charges, said Hal Watson, a Houston attorney and secretary for the Maritime Law Association of the United States.
But Ukrainian officials could also exercise jurisdiction if the Ukrainian man being held on the ship is determined a suspect, Watson said.
An investigation would likely have to be carried out either by the United States or the Netherlands because of maritime law dealing with crimes that occur on vessels in international waters, he said.
Thanks to Phil for passing the article along.