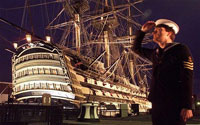 A disturbing report published yesterday in the Telegraph.
HMS Victory rotting and being pulled apart under its own weight
HMS Victory is riddled with rot and being pulled apart by its own weight, maintenance reports of the historic ship have found.

As Britain's most celebrated warship, she withstood the onslaught of the combined French and Spanish navies at the Battle of Trafalgar. But HMS Victory, the flagship of Lord Nelson, now faces its ultimate battle.
The 245-year-old ship is leaking, is riddled with rot and is gradually being pulled apart by its own weight, according to maintenance documents and a structural survey obtained by The Sunday Telegraph.
Much-needed repairs have not been carried out and previous renovation work may have even damaged the HMS Victory's structural integrity.