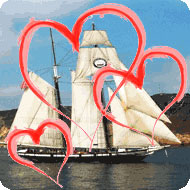 Museums on two coasts have special Valentine's Days events planned for sailors.  The Penobscot Marine Museum in Searsport, Maine is offering a sailor's valentine workshop for adults on Saturday, Feb. 12, just in time for Valentine's Day.    In San Diego's warmer climes, the Maritime Museum of San Diego is offering sweetheart cruise on the Californian, the state's official tall ship.
San Diego: Tall ship offers 'Sweetheart Sail' for Valentine's Day

Passengers aboard the Californian will have an opportunity to haul a line or staff the helm during the sailing, which will end with a cannon salute. The schooner, a replica of a Gold Rush-era vessel, was built in 1984.
The Sweetheart Sail will start at 12:30 p.m. It includes a keepsake picture (taken between 10:30 a.m. and noon before the sailing) and a gift bag. Tickets cost $60 plus tax for adults and $35 for children age 12 and younger. They can be bought online or by phone. Organizers say this event usually sells out, so it's best to buy tickets in advance.
Museum to teach the craft of the sailor's valentine
"This is a part of maritime history," said Betty Schopmeyer, education director at Penobscot Marine Museum. "The truth is that sailor's valentines had nothing to do with Valentine's Day whatsoever. They were probably termed that later because they were given as tokens of affection."
Traditionally, the seashell mosaics often included a message or photograph and were framed in octagonal boxes made of Spanish cedar. Glass was placed over the design to protect the delicate shells.
Thanks to Alaric Bond for passing on the article about the sailor's valentines.