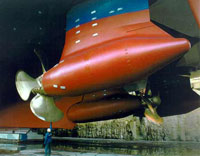 This week Carnival Cruise Lines was awarded $24 million in a lawsuit with Rolls Royce related to the repeated failure of the  "Mermaid Pods" on Carnival's Cunard Line ship, Queen Mary 2. Last year about this time Royal Caribbean Cruise Lines reached a $65 million settlement with Rolls Royce over Mermaid pods on its ships.

Mermaid pods are either the best or the worst idea to hit the cruise industry in the last few decades.   "Podded" propulsion is intended to replace conventional shafting rudders and stern thrusters. A "pod" is a strut extending from the hull of a ship with an electric motor inside, driving a propeller.
Pods are often designed to rotate, thus performing the job of both the rudder and a stern thruster.  The podwas intended the cruise captain's dream in that it was designed to provide efficient slow speed maneuvering and a simper propulsion system over all.   Rolls Royce marketed their "Mermaid pods" and sold quite a few to Royal Caribbean and Carnival Cruise Lines.  A competitor, ABB sold their "Azipods" to Norwegian Cruise Lines among others.
The problem is that the propellers which drive the ship are directing all their thrust through a rotating bearing  on the pod which also happens to steer the ship.  If this bearing fails, the ship loses the pod as both a propulsion system and as a rudder.  Most ships have either two or four pods. Often two pods are fixed (non-rotating.)  Royal Caribbean had  Mermaid Pods installed on their subsidiary Celebrity Cruise Line Millennium class ships and soon were taking ships out of service and cancelling cruises because of Mermaid pod bearing failures.
Notwithstanding the problems that the cruise lines have had with pod propulsion, it still remains the system of choice in cruise ship new building.  The new Cunard liners Queen Elizabeth and Queen Victoria both have Azipod propulsion.