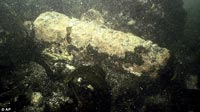 Two hundred years ago today the USS Revenge, under the command of  Oliver Hazard Perry, sank in the waters off  Rhode Island.   On Friday, divers, Charles Buffum, Mike Fournier and Craig Harger, announced that they believe that they have  located the wreck.   In the wreckage they have found four 42-inch long cannons, an anchor, canister shot, and other metal objects that make them confident that they have the right ship.  They do not have a positive identification however and some have noted that the Revenge was originally armed with 6 pounders  with a length of  72″.   Whether the ship was subsequently rearmed with carronades is the subject of discussion as well as whether the published photographs of the guns show trunnions indicating a conventional gun or lugs indicating carronades.
We never gave up the ship! Divers claim they have found the 200-year-old wreck of the USS Revenge

The Revenge was commanded by Oliver Hazard Perry, the U.S. Navy hero who immortalised the phrase 'I have met the enemy and they are ours'.
His battle flag – which to this day is a symbol of the Navy – implored: 'Don't give up the ship'.
Some argue that the Revenge changed the course of American history: Because of its sinking, it is believed, Perry was sent to the Great Lakes.
There he defeated the British in the 1813 Battle of Lake Eries off the shores of Ohio, Michigan and Ontario in the War of 1812.
Note:  The phrase "don't give up the ship was the dying command of James Lawrence in command of the USS Chesapeake. Perry adopted it for his battle flag to memorialize his friend Lawrence.