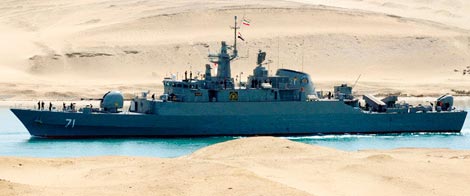 For the first time since the Iranian revolution in 1979, two ships of the Iranian Navy are transiting the Suez Canal bound for the Mediterranean Sea.  The two ships, Alvand, a patrol frigate and Kharg, a supply ship, entered the canal at 5:45am, local time, Tuesday.  Last week the nuclear powered US aircraft carrier USS Enterprise transited the Suez Canal in the other direction.  The Enterprise was one of the  four ships shadowing the hijacked yacht Quest. The hijacking ended tragically with the deaths of the  four American sailors aboard.
Iranian navy ships enter Suez Canal
Thanks to Phil Leon for passing the news along.