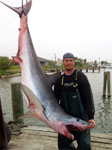 Last summer we posted about a breaching Southern Right whale that landed on a sailboat off South Africa.   This week, boaters off the Florida Keys and in the Gulf of Mexico off Texas got surprise visitors.
Off the Florida Keys a 200 pound spotted eagle ray jumped into chartered boat and landed on top of Jenny Hausch,  knocking her down. Ms. Hausch was able to crawl out from under the ray and was unhurt.   The ray was helped back into the water and swam away.
Florida Keys tourist survives collision with jumping sea creature

In the Gulf of Mexico, about 50 miles off the Texas coast, three fishermen fishing for red snapper were joined by an eight foot long, 400 pound Mako shark which jumped into their boat.  The shark was thrashing around so that the fisherman could not safely get it back in the water.  The shark subsequently died after doing damage to the boat.
Flying Mako Shark Lands In Fishing Boat
Thanks to Phil Leon for passing the articles along.