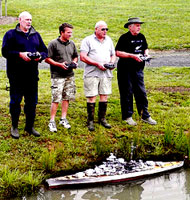 This Sunday a grand of fleet of miniature ships will sail the lake at East Tamaki, a suburb of Auckland, New Zealand.  The event is being hosted by Task Force 48, a group of radio-controlled model ship enthusiasts.
The 1:48 scale replicas of the full-size Royal New Zealand Navy ships will carry out fleet manoeuvres on a lake in Highbrook.

The models will include the frigates Waikato, Canterbury, Otago and Te Mana, inshore patrol vessels Pukaki, Rotoiti and Taupo, and the Wellington, which is an offshore patrol vessel.
The annual fleet sail will be held on Sunday, March 27, at the lake at the southern end of El Koba Drive, off Highbrook Drive, East Tamaki. Visitors can park on the tar seal and walk down to the lake where a sausage sizzle, toilets and ample viewing spots will be available. The TF48 group meets every third Sunday from 10am-noon.

Thanks to Alaric Bond for passing on the story.