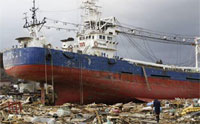 "The newest landmark in the tsunami-stricken city of Kesennuma."
Ghost ship haunts tsunami-hit Japanese city
The newest landmark in the tsunami-stricken city of Kesennuma is a massive fishing trawler that was swept up at sea and came to rest on one of the main roads to City Hall. The No. 18 Kyotoku-maru ship, with a red and blue hull and a "safety first" slogan painted just above its bridge, looms over a landscape of homes and business splintered by the March 11 tsunami and then set ablaze in an ensuing fire.

"It really catches the eye," said Ayaka Hatakeyama, who used to run a butcher shop a few metres from where the ship came to rest in the centre of this northeastern port city.
The ship stands out in an already surreal landscape of convenience stores smashed by houses and cars perched precariously on crumbling concrete walls.
Locals share stories about the ship whose crew was forced to stay on board as the city beneath them blazed through the night.
"We heard the ship was full of fuel and worried that it was going to explode," Hatakeyama said as she took a break from salvaging goods from her store.
The central business district of the city of 73,000 was ravaged by the tsunami that filled streets with water two-floors high and parked smaller ships haphazardly in other locations.
But the Kyotoku-maru will likely stay where it now sits as a ghost ship for some time to come, with officials expecting it to take months just to remove the debris caused by the tsunami.
"I have no idea how they are going to get that thing out of here," one fire-fighter said.