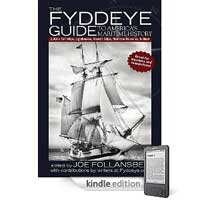 I recently purchased Joe Follansbee's The Fyddeye Guide to America's Maritime History – 2,000+ Tall Ships, Lighthouses, Historic Ships, Maritime Museums, and More. Rather than purchasing a dead-tree version, I bought the guide as an e-book for Kindle. This is, therefore, a dual review – a review of the guide book itself and how it works as an e-book.

The Fyddeye Guide is nothing if not ambitious.   Its over 2,000 entries include ships, broken down by type – ferries, fireships, tall ships, tug boats, steamers, submarines, as well as warships by both type and era. There are also entries for museums, maritime and other, research libraries, lighthouses, life saving stations, historic districts, sites, markers and monuments all broken down by state. There is also a listing of organizations with a maritime focus, also listed by state.
Each entry includes a brief summary, and all the pertinent information one might need for a visit – address, phone number, website, hours of operation, admission fees, if any, as well as the year built or established and the latitude and longitude.
There are a few photographs and maps in the book, but overall text prevails. Given the number of entries any attempt to include photographs of each or even significant representative samples could have quickly become unworkable.
Overall, as a guide book, I am quite favorably impressed.   It seems to succeed in what is sets out to do, which is indeed ambitious.
The second question is – how does it work as a Kindle e-book?  The answer is – quite well, with a minor problem here or there. First of all, the e-book weighs nothing. The Kindle is slightly lighter than a paperback and mine now has over 500 books, with room for another thousand or so.  Having the Fyddeye Guide onboard will be great for traveling when I want to check out local maritime lore that I might not be aware of.
Unlike a paper guide book, I can't flip through book to find an entry. Nevertheless the electronic table of contents works well.  The table of contents is sufficiently detailed so that it is usually all that is necessary to find an entry.
The Kindle word search feature is also useful for finding entries. If you want to find all entries for the windjammer "Peking", for example,  a search for "Peking" does the trick.   You can also search for general terms.  Searching for "barkentine" yields three pages of links to barkentines in the guide. "Destroyer" results in eight pages and "schooner" forty three.  You can however narrow that down by adding a location or a name.
The links to webpages are also useful. Owners of Kindle books can also view their books on their computer with the Kindle app for PC or Mac (as well as from smart phones or iPads.) When consulting the guide on a computer, is it easy to jump back and forth between the guide entries and the webpages for each entry. It is a convenient way around the limitation inherent in any guide book, which can contain only so much information without becoming too large or unmanageable.    (It is also possible to jump directly to an entry web page from a Kindle with a wifi or 3G connection, which could be useful on the road. Then again, the Kindle web browser is a touch rudimentary and rather slow.)
One feature which doesn't work quite right is the index. The links seem to take you to a geographically close point in the book, but not to where you clicked. A touch odd.
In general, I am very impressed by the scope, organization and level of detail in the Fyddeye Guide to America's Maritime History. I look forward to consulting it regularly. I am also pleased with the book in Kindle format. Notwithstanding an issue with the index, the book is easy to navigate and search electronically.  Highly recommended.